How sturdy is your flooring? Do you have a big family? Do you rearrange your furniture frequently? Are you constantly getting your floors dirty or wet? Do you drop heavy or sharp things on your floors a lot? Do you have pets? Do you have a lot of traffic going through your home? If you said yes to any of these questions, then you might want to reconsider the flooring in your home. Our floors get a lot of wear-and-tear from us everyday, and it's important that we have the best flooring in our homes to prevent scuff marks, scratch marks, water-warping, and other damages. Keep reading below to find out what the top three best flooring options are for your home!
---
Vinyl Plank
The sturdiest flooring is first going to be vinyl plank- also known as luxury vinyl.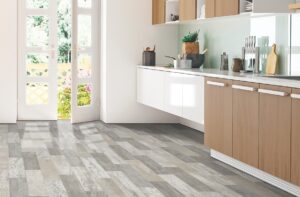 This type of flooring is ideal for the rooms that get messy and the most traffic like the kitchen or the mudroom. Vinyl is ranked as the sturdiest flooring because of the multiple layers it's composed of to help resist scuffing and it's also waterproof. It can also be customized to anyone's needs which makes it the perfect option for fake hardwood. Not only is vinyl sturdy, but it is affordable and easy to install, making this flooring perfect for anyone.
Porcelain Tile
The second best flooring is tile, but more specifically, porcelain tile.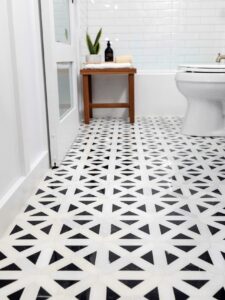 Because of its density, this floor is so scratch proof that it can withstand even the clumsiest mess! Having less than .5% of a water absorption rate and being allowed to install outdoors, porcelain tile is ideal for the bathroom, entry hall, utility room, the kitchen, and even your patio. If you're someone who needs a sturdy flooring but also want to bring some character and life into your floors with fun patterns, or if you love the look of a slick white floor, porcelain tile is the perfect option for you.
Hardwood
There are two types of hardwood:
Solid- a single plank of wood
Engineered- made up of plywood (the core layer) and a thin layer of wood veneer
Between the two, solid hardwood is going to be the most scratch resistant option whereas engineered hardwood is a better option for those who want a more water-resistant floor. Solid hardwood can be sanded and refinished IF it gets scratched. The reason you can't do this with engineered hardwood is because of it being too thin to refinish more than twice. On the other hand, if you get your hardwood floors wet, solid hardwood is going to warp whereas the engineered hardwood can stand the water. Before deciding what kind of hardwood flooring you want, make sure you know where you want it and if it needs to be more on the scratch resistant side or water resistant side.