At Emblem Properties, we are dedicated to offering "The Customer Service Difference—Where Our Clients Are #1." We would like to share this blog from one of our wonderful agents, Dale Vinson.
"Shrub or small tree with very hardwood, usually multi-trunked. Normally 10-15 ft tall but can reach 35 ft in the southern parts of its range. Common in brushy areas on level uplands, stony hillsides, and lower slopes from Houston and Bryan, Texas, in the east, west to Big Bend in west Texas and south to Nuevo Leon in northeastern Mexico.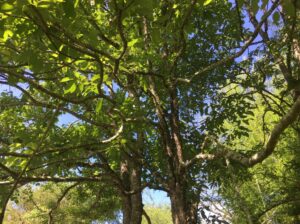 Texas Persimmons (Diospyros texana) are resilient, graceful trees found from northern Mexico to Central Texas. Extremely drought-resistant, they produce inch-long black fruit filled with seeds. German settler Viktor Bracht wrote in 1848, "The black persimmon is a medlar-like bush that is common. The Texas persimmon resists root rot. It is critical that all Oriental trees be grafted or budded onto the common persimmon because root rot is prevalent where the tree can grow."
Are You ready for your own back yard?
How about growing Texas native persimmon trees in your own backyard!
Could this be your Key to Happiness?
Looking to Buy, Sell, or Lease Today?
Come by, Call, Text, or Email me Today!
168 Col. Etheredge Blvd. Ste.D, Huntsville, TX 77340
Dale Vinson REALTOR® (665187)
Cell: (936)662-8706 Email: dalevinson@rocketmail.com