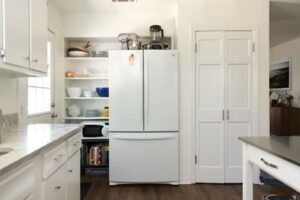 A full fridge reorganization might be at the very bottom of the list of things you'd like to do today (or this year). From mopping up pesky old crumbs in hard-to-reach drawers and checking the expiration date on sauces you haven't used in years, it can be a truly annoying job. But once everything is cleared out and it's time to start new, you don't have to do things like you always have.
There are tried-and-true hacks that professional organizers use to ensure they are maximizing every inch of an overstuffed fridge, where space is at a premium. This means working smarter, not harder, to choose organization tools that will look amazing not only for your "after" photo but also every time you open the fridge. Not only that, but some also work to help preserve your food longer. Here's what they recommend.
Maximize vertical space while saving your parsley's life
When you embark on a new recipe that calls for fresh herbs, you might roll your eyes knowing that after using just one sprig of parsley, the rest of them are going to slowly rot in your fridge until you ultimately throw them out. But according to Cindy Thomas, professional home organizer and CEO at Simply Organized Interiors, it doesn't have to be this way. Instead, maximize space by using vertical Herb Savor Pods, which keep herbs fresh for up to three weeks and take up much less space than a large flat plastic container. Just remember to change the water through the tethered filler cap every three to five days, and you will enjoy better organization and herbs for many more recipes to come.
Use see-through temperature-controlled bins
Visibility is one of the ultimate stressors in a fridge or freezer, with foods and containers stacked on top of one another until you can barely tell what groceries you actually have. This is an issue because it might increase your tendency to waste food when you discover something way in the back you meant to eat. In addition, various locations in your fridge might be colder or warmer than others. These stackable organizer bins that Thomas recommends solve both problems.
"What's really nice is that you can see everything inside of it. It's a great way to put like things together into one space. For example, lunch meat, cheeses, breakfast meats are a few ways that we use these drawers because we always have those items in rotation," she says. "A big bonus is if you can label the drawer front so that only those items get put into those specific pull-out drawers."
Stop storing dairy in the door — and try this instead
If you are storing your eggs, cheese, butter, milk, or other dairy items on the door, you might be unnecessarily warming them up every time the fridge is open. Marcia Sloman, a professional organizer at Under Control Organizing, says that only condiments should go on the doors instead. For maximum visibility, group them by height, not category, so that you can easily reach the back. This also presents an organized and visually appealing look to your fridge when you open the door, rather than random condiments haphazardly scattered.
Declutter by updating your leftovers' storage system
We all love a good leftover lunch after a tasty dinner the night before, but storage boxes cluttering up your fridge doesn't help anyone. Instead, Sloman says to switch to Ziploc Grip 'n Seal bags, not the slider ones, which have a boxy bottom that stand on their own. Then, you can stack leftovers vertically, and can even store them alongside your marinating dinner for the next night. She also recommends dating and labeling each leftover for more organization. A simple roll of masking tape and a Sharpie does the trick.
If you're hungry for more tips, Sloman recommends the following for further organization:
For the crisper drawers: Line with a foam bottom to encourage air circulation. Keep at minimum humidity.
Crisper drawer one: Store fresh fruits and vegetables.
Crisper drawer two: Store breads.
Deli drawer: Store cheeses and packaged meats.
Additional fruits are best kept in a colander on a lower shelf if they have ripened well on your counter.