TUESDAY, FEBRUARY 15 from 11 AM – 1 PM
FREE car seat checks will be performed by certified Child Passenger Safety Technicians (CPST). We encourage you to bring your child and current seat to the check event to ensure proper fit and installation. Appointment times are available and can be scheduled by visiting the website: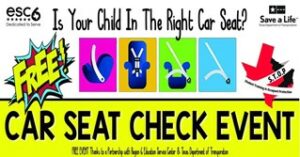 THURSDAY, FEBRUARY 17 from 5:30 PM – 7 PM
Join us to paint this adorable paint-by-line bunny in a truck with the #bestpaintonplanetearth Dixie Belle chalk mineral paint. All materials provided. $40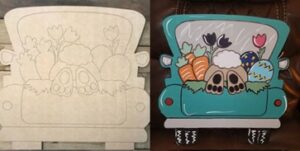 Game Night – Let's Play Bingo!
FRIDAY, FEBRUARY 18 from 7 PM – 9 PM
What goes with wine? Bingo! Join us for a fun and informal after-hours event drinking wine and playing bingo. It's Game Night at WSCW, and this time out we're playing bingo. Your ticket includes a hearty hot and cold appetizer buffet and two bingo play cards. Doors will be open at 6:30 p.m. and bingo starts at 7:00 p.m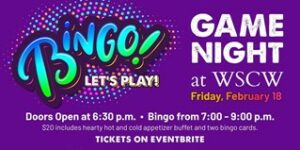 Feb 18, 2022 5:30 PM 8:30 PM
4040 Hwy 6, Bryan, Texas 77845
This special after-hours event will take place on Friday, February 18 from 5:30 to 8:30 p.m. and will feature live music, a special photo booth to commemorate the night, and of course – breakfast for dinner. The menu is prix-fixe, and coffee, tea, soda, and tip are included. Tickets are $25. All sales are final; no refunds or cancelations. Tickets are limited.

Open Studio at Painting with a twist
Saturday, Feb. 19|4:00 pm to 6:00 pm
Choose any painting. Please look at the website prior to booking and write in the SPECIAL REQUESTS section at time of reservations what your choices are. If you can't decide when you are booking just text them at 979-485-9838 or email them at collegestation@paintingwithatwist.com.