Emblem Properties has found some local family events happening in the next upcoming weeks! Enjoy many activities such as shopping, exploring, learning, and making memories!
1st Southern Summer Sip N Shop Artisan Walk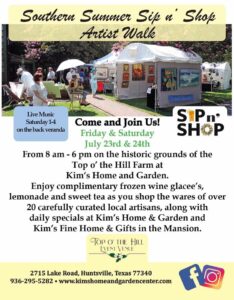 IT'S TIME TO MAKE NEW FRIENDS, EAT GREAT FOOD AND HAVE FUN on Saturday, July 24th, starting at 2:00PM, in Davidson Park located at 1436 Fish Hatchery Road. Bring something to eat and drink. If you like to play games, bring your favorite, or sit and chat. There are plenty of things to enjoy like the waterfall, creek and the beautiful flowers and trees. Try out the bar and eatery in The Filling Station. No cost to you. FOR ADDITIONAL INFORMATION, CALL 936-661-6609. Let's Get-To-Gather and remember, bring your friends.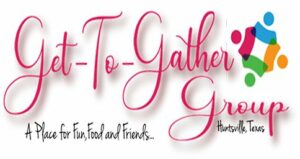 Stealin' Christmas / Christmas in July
Tuesday, July 27, from 6:00PM– 8:00PM at Painting with a Twist in College Station there will be a "Stealin' Christmas" painting. Pre-registration is required online! They are BYOB for refreshments and light snacks. Please arrive on time!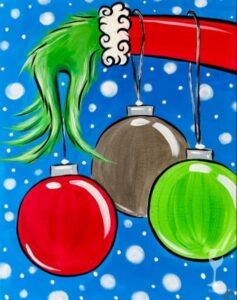 Join Chick-Fil-A in Huntsville as they support the Trinity River Food Bank!
Wednesday, July 28 at 3:00PM 15% of Dine-In sales will be donated to our local food bank with the intent to satisfy food insecurities in our community.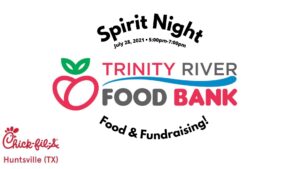 The City of Huntsville Recreation Services, Fishing Futures, and The Texas Park and Wildlife has teamed up to create a fun filled day of fishing! Come join them on July 31 at 9:00AM located at the Huntsville State Park.
Pre-registration is required. Call 936-294-5721 or go online at https://ffc_hsp_7_31_2021.eventbrite.com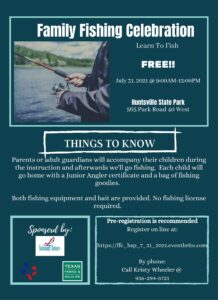 Cowgirls for Christ – Craft Outing!
Saturday, August 7 from 2:00PM-5:00PM come and enjoy a fun time at Cork & Canvas in Huntsville!
Choose the project you wish to create. The instructor will guide you through the process of creating your own custom wooden sign in this 3-hour class. From sanding and staining to stenciling and painting, you will learn to work with natural wood grains, knots, and textures. You will leave with a piece of art that is one of a kind. Dress for mess!
Please visit the website to pre-register and select the design you want. If you have any questions, please feel free to contact a member of the team. https://app.getoccasion.com/xp/KFV8k6gN
School is out so it's time for some Cupcake Competitions and Wars! Time to let the real fun begin at Cook n Grow summer camp, and let us tell you, the real fun is in the kitchen! On Monday, August 9, at 9:00AM-12:00PM at Cook N Grow, College Station, TX.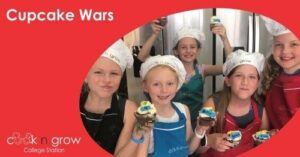 Back to School Bash is Sunday, August 22 from 2:00PM–4:00PM at the A&M United Methodist Church Annex Lawn, in College Station. Bring your swimsuit and lawn chairs for an afternoon of FUN!