Fall is…. somewhere in the air! We had a very short tease of fall a couple of weeks back, but we are waiting in anticipation of the cooler weather to come our way. The leaves are beginning to fall, and we can almost see around the corner of our warm Texas weather.
As you begin to think about fall you also think about fall decorations for your home. There are many outdoor and indoor possibilities. We would like to share a few ideas and links with you to get you going on your own ideas to freshen up the look around you.
Let us begin with your table. Here are several DIY Centerpieces from Country Living. What about your front door? Check out the Front Door Ideas from HomeBNC.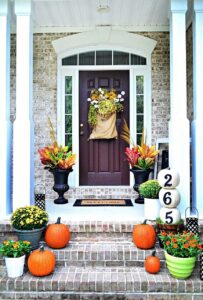 Moving through your home and into the living area, you may have a bare fireplace mantel. Check out the link provided for 35+ Ideas to help add festive character to your fireplace!
To welcome the new season, you could also purchase a candle or wax melt with the aroma of apple cinnamon or pumpkin spice! The small details help bring in the bigger picture together.
Emblem Properties is here for you if you have any real estate needs. We will help you decorate for the fall to get your property on the market and make it very inviting for potential buyers. The real estate market continues to be strong.