Emblem Properties has found some family friendly events for your enjoyment! Check out the events happening in Huntsville and College Station within the next couple of weeks.
Friday, September 10th from 3:45-4:15PM Come help Barefoot kick-off the season with a Sammy-bration! Take pictures with Sammy and Spin the Wheel to win some cool prizes!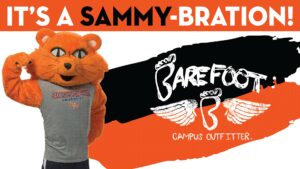 HEARTS Veterans Museum of TX Muster Festival
On Saturday, September 11th from 10AM-4PM there will be a FREE family fun festival honoring our TRUE AMERICAN HEROES-military, first responders, & corrections. Come out to HEARTS Veterans Museum for a day of fun!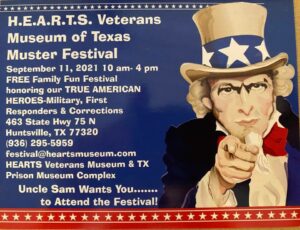 4th Annual Muster Festival Sortie Bike Ride
Charity Motorcycle Ride Event on Saturday, September 11th at 8 AM. It will be $20 Rider and per $10 Passenger at the HEARTS Veterans Museum of Texas.
Proceeds directly going to permanent installation of traveling Vietnam Memorial Wall at HEARTS Veterans Museum of Texas. For more information, contact Ace Hagan at 713-252-5173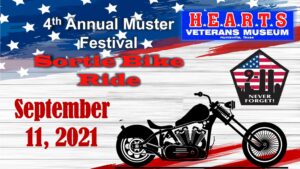 Visit the village that Santa built from 11AM-7PM! Enjoy up to 100 antique, vintage and custom cars. Visit local artists and craftsmen. Enjoy the live music and treat yourself to the best BBQ in Texas. Join the watch party and cheer on Texas A&M. Win a door prize or the RAFFLE!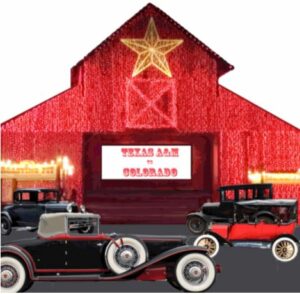 Join for a .911 mile race beginning at 8AM and festivities from 9-11AM at Jones Crossing in College Station.
Festivities will include bites, sips, a giveaway, live music, and a moment of silence and flag raising with local fire fighters. Free admission, but cash donations accepted and will go directly to the Brazos County Fire Responders Association.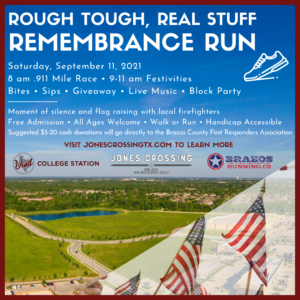 Presented by Christ's Way Baptist Church in College Station come enjoy an Outdoor Gospel Music Concert on September 16th at 6PM! Bring your lawn chair or blanket!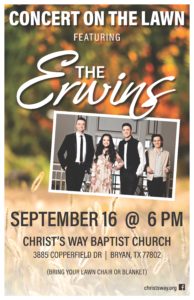 Huntsville Junkers Goes to the Huntsville Antique Show
Over 100 great vendors will be at the Walker County Fairgrounds, September 18th and 19th at 4PM. There will be Antiques, collectibles, kitchen, yard and garden and old tools.
On Saturday, September 25th from 8AM-12PM the SAAFE House will be having a Rummage Sale! Declutter your home, garage, or attic, and donate the items to SAAFE House. You may also wish to fill out a Vendor Booth Registration form and come join, selling your own goods. 100% of the proceeds from this event goes toward the SAAFE House shelter renovation/expansion.
Find more information & download a Vendor Booth Registration form on our website:
https://www.saafehouse.org/events-1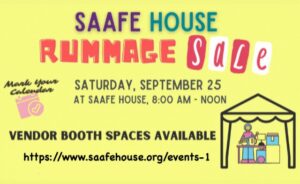 On Saturday, September 25th from 10AM-1PM on Main Street in Huntsville there will be a free event to attend and will be interactive for children and the young at heart. "Touch-a-Truck" will allow kids the opportunity to climb on, learn about, and discover their favorite big trucks and vehicles such as police vehicles, construction trucks, fire trucks and more. Drivers and operators will be on hand to educate the public about their vehicles, assist in demonstrations, pose for photographs, and answer any questions.