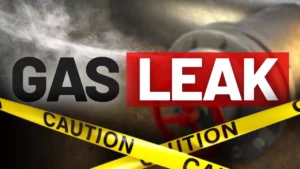 Homes use natural gas everyday for several uses such as stoves, ovens, and gas heat. However, gas becomes a serious health and safety hazard when something causes a leak, so how do you know when there is trouble?
The first thing you'll probably notice is the pungent smell, which isn't even from the gas, it is from a chemical called Mercaptan. Since natural gas on its own does not smell or taste like anything, mercaptan is added to it to help you detect when there's a leak. This is what gives off a smell of what most people describe as rotten eggs or cabbage.
If you ever smell something similar in your home, unless you are cooking cabbage or cracked a bad egg, you may be dealing with a gas leak.
After you have realized the smell, here are some other things to look for:
a hissing sound coming from the pipes
bubbling in still water
lighter colored flames
plants are dying
dust or dirt that sits in a cloud or "blowing" around
Gas Poisoning:
If you have been exposed for too long, some of your symptoms may include:
Headache
Nausea
Difficulty breathing
Fatigue
Burning/Itching in your throat, nose, or eyes
Dizziness
Discoloration of your face
WHAT TO DO AFTER DETECTING A GAS LEAK
Once you have suspected a gas leak in your home, you need to act quickly! Immediately turn off all appliances whether they are electronic or gas operated. Open all of the windows and doors, and get outside! Wait until you are outside to call 911 or gas provider because it is not safe to use your phone around the gas leak. It is recommended to not turn on your car if it is near the leak, but if it is necessary, use EXTREME caution.
After the gas company clears you to enter your home, you will need a plumber to help you with repairs as well as an inspection.
PREVENTING A GAS LEAK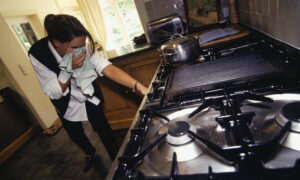 Getting an inspection is the first step you can take to ensure better prevention of a gas leak. This will also give you peace of mind because if you've dealt with a gas leak before, you probably don't want to deal with one again.
Don't leave flammable items lying around your gas-operated appliances.
Check up on your gas appliances regularly to make sure there aren't any tears or hazards.
Get replacements for your shut-off valves and other gas fittings.
Make sure to always let your neighbors know if you have a gas leak- or if you think your neighbor may have one, help them out and let them know!
Share this article with someone who doesn't know how to handle a gas leak!
Sources:
https://www.thisoldhouse.com/plumbing/21312420/what-does-a-gas-leak-smell-like
https://www.sanjac.edu/sites/default/files/warning-signs-of-a-gas-leak.gif
https://cdn.hswstatic.com/gif/gas-leak-home-200222116.jpg